Discover Italy's New UNESCO World Heritage Sites
By: Susan Van Allen
Extraordinary destinations for travelers are added every year to UNESCO's World Heritage List. In 2021, three of the new sites selected were in Italy, bringing Italy's World Heritage Site total to 58—the most of any country in the world.
While many of Italy's UNESCO sites from the past are packed with tourists, such as the Historical Center of Florence or Venice and its lagoon, these newly designated places are under the tourist radar.
Equally stunning and without crowds, these places give travelers a chance to blend in with the locals, immersing themselves in unique pleasures of bell'Italia. Their locations add to their allure, as each can easily be reached by short train rides from Venice or Florence, making them perfect for day trips.
For your consideration, from north to south: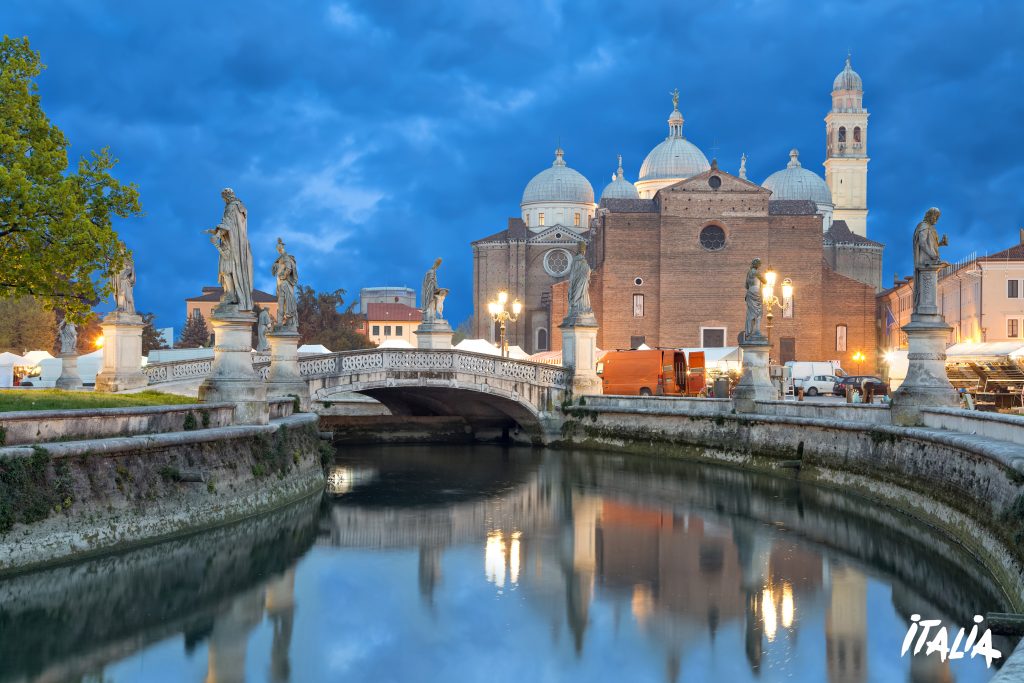 Padua's Fourteenth-Century Fresco Cycles
Only a 30-minute train ride from Venice is the university town of Padua, a dazzling delight, where visitors can wander through the historic center's piazzas, entering churches and civic buildings that were fantastically frescoed by artists in the fourteenth century.
As the UNESCO proclamation states, painters during that pre-Renaissance time brought a new image to Padua, giving it the nickname Urbs Picta, Painted City. The star of the eight frescoed buildings in the UNESCO group is the Scrovegni Chapel, painted by superstar Giotto. Entering, visitors are awestruck by vibrant colors and a striking style that captures powerful emotions.
More breathtaking interiors are to be discovered in Padua's Baptistry, Palazzo della Ragione, and the Basilica of Saint Anthony, one of Italy's most popular pilgrimage sites. To enrich the Padua fresco experience, there's an app with fascinating commentary, and an inclusive ticket to see all eight sites.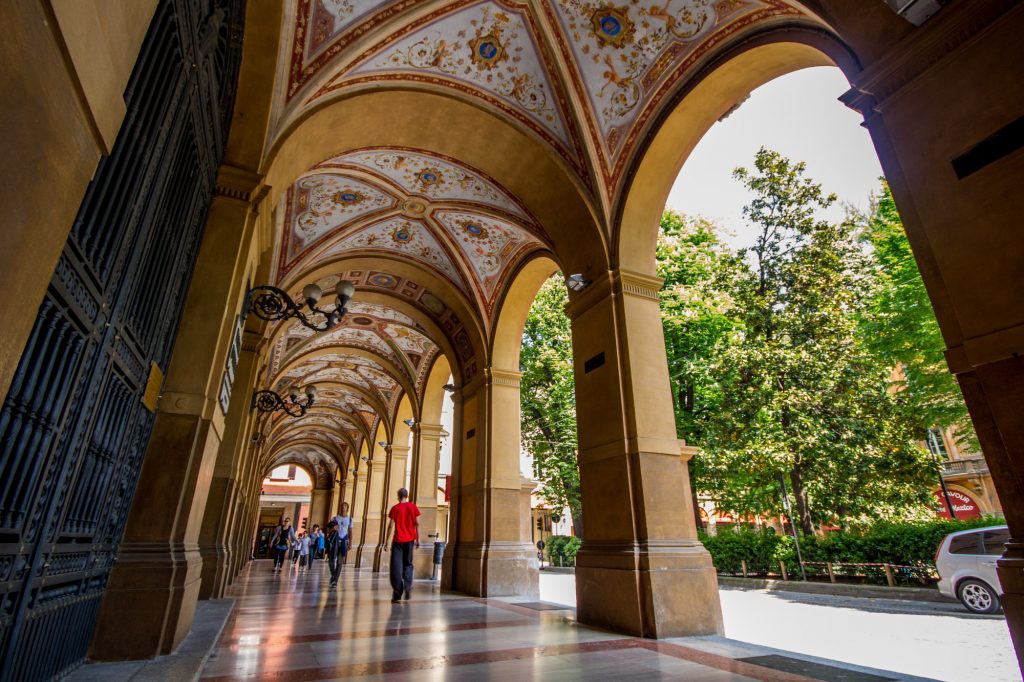 The Porticoes of Bologna
Visitors to Bologna, in Italy's central Emilia Romagna region, are enchanted by the city's beautifully preserved medieval ambience, where sidewalks are sheltered with more porticoes than any other city in the world, totaling 62 km, or about 35 miles. The porticoes appear in a range of styles—from humble wooden structures to Renaissance loggias with carved stone columns and painted ceilings.
UNESCO calls these porticoes "expressions of Bologna's urban identity." Though their original purpose in the Middle Ages was to expand buildings to make room for the many university students coming to Bologna, today the porticoes serve to expand the city's pleasures. On a practical level, they give protection for walks in rainy weather and provide cool shade on hot summer days. Moreover, they bring an easy-going elegance to the city, as they are perfect settings for sidewalk eateries or for musicians to casually set up and play Mozart concertos.
A traditional Bolognese experience is the 4-kilometer, 2.5 mile walk through the longest portico in the world, adorned with 664 arches, from the Porta Saragozza in the historic center up to the church of San Luca, where stunning views of the countryside await.
As Bologna is also famous for having the most delicious cuisine in Italy, it can be an ideal escape from the crowds of Florence, (only a 40-minute train ride away), to enjoy a classic lunch of Tagliatelle alla Bolognese.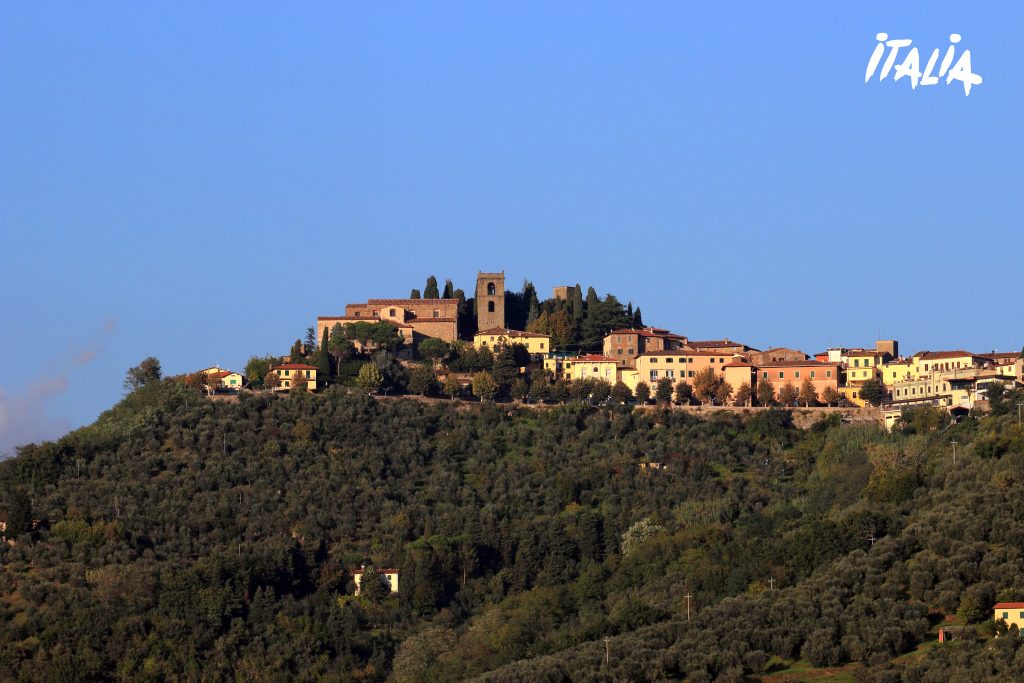 Montecatini Terme, a Great Spa Town of Europe
Mineral rich thermal springs have been enjoyed on the Italian peninsula since the days of the Roman Empire. Among Italy's most famous places to "take the waters" is the Tuscan Art Nouveau town of Montecatini Terme, reached by an hour's train ride from Florence.
UNESCO included Montecatini Terme amongst 11 "Great Spa Towns of Europe", praising it for its history, since the 1700s, when the town developed as an international resort destination, combining medical studies with monumental spa architecture, promenades, and parklands.
Today there are two hundred spa hotels in Montecatini Terme that pump in curative waters, renowned for their beneficial effects on the liver and digestive system.
A favorite spot is Terme Tettuccio, a grand pavilion that sits in the center of Montecatini Terme's beautifully landscaped park. Gorgeous marble bars with brass spigots disperse drinking cups of the cure, as local hipsters in their gym clothes and pensioners with their canes mill about. A jazz orchestra plays on the bandstand, there's a bookstore, caffe, and inner gardens that blend to create a blissful Old World ambience.
To learn more, visit: www.italia.it or contact the Italian National Tourist Board in the US [email protected]; [email protected].  
Find your dream vacation to Italy with a USTOA tour operator here https://ustoa.travelstride.com/trip-list/italy
About the author: Susan Van Allen is the author of 4 books about Italian travel, including "100 Places in Italy Every Woman Should Go". She also designs and hosts Golden Weeks in Italy For Women Only tours, that give female travelers wonderful insiders' experiences of the Bel Paese. www.susanvanallen.com
The Italian National Tourist Board – ENIT – supports marketing activities worldwide, promoting Italy as a unique and exclusive destination, aiming to increase the international tourist flow, while maintaining its high market share. The promotion is carried out with a corporate strategy conceived in Italy and implemented through its 28 offices abroad. In the next few years, Italy's tourism development will be focused on a value growth to generate economic, social and cultural sustainability: enhance tourism supply, increase the value of the territories and businesses and market relevance.
---