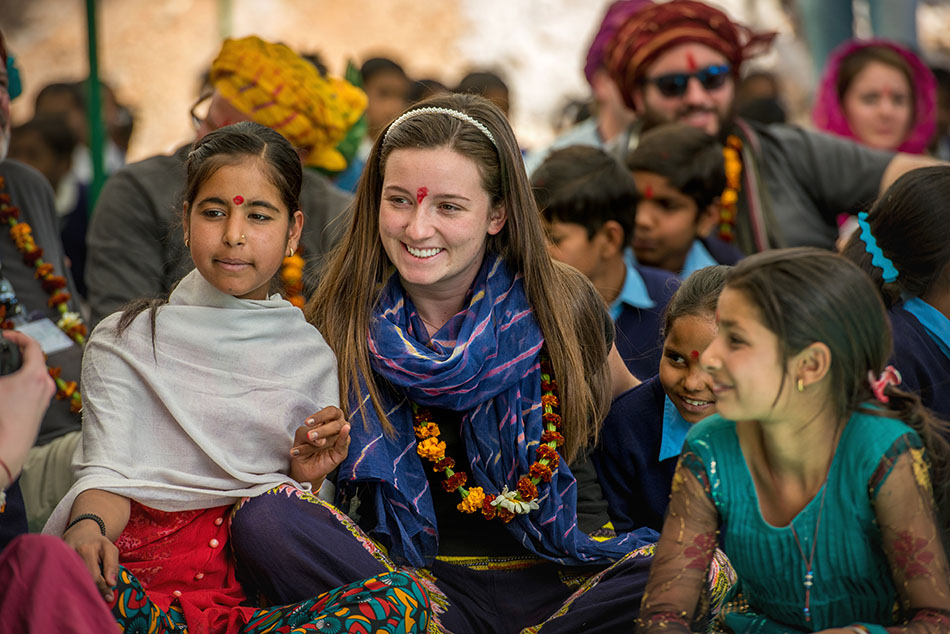 Are you looking to make a difference in the communities you visit? You're not alone. Socially-responsible travel is becoming increasingly significant to today's globally connected travelers.
On a recent trip to Jordan with Tourism Cares, Terry Dale, president and CEO of USTOA joined a group of travel industry representatives to explore the new Meaningful Travel Map of Jordan. It maps out a trail of 12 stops with hands-on local experiences that help contribute to the communities, such as learning the craft of traditional weaving at the Bani Hamida Women's Weaving Project, which boosts women's rights and livelihoods in the area.
Through stops like this, Terry and some USTOA members witnessed firsthand how tourism can lead social change and it inspired USTOA to ask the question – what are some ways our members are positively impacting the communities they visit around the world? We asked a few tour operator member executives this question as well as why impactful travel is vital to the destinations you visit. Here's what they had to say:
Robert Drumm, President, Alexander+Roberts 
Our guests are culturally inquisitive and passionate about gaining a deep understanding and appreciation of the places they visit. As their tour company, I believe it's important for us to support the people, culture and natural wonders of these far-flung lands. By giving back to these communities, we are ensuring their sustainability and the opportunity for future travelers to enjoy the same experiences as our guests.
One way we give back is through our partnerships with properties like the Grootbos Private Nature Reserve in South Africa. By selecting this luxury eco-lodge for our guests, we are supporting the Grootbos Foundation, a non-profit organization that empowers the local community through education, training and enterprise development. On this same South African adventure, we also make a per-guest donation to the Tintswalo Rhino Extreme Campaign, a project working to end poaching in the Manyeleti Game Reserve where our travelers go on safari.
Paula Twidale, Executive Vice President of Collette
Travel is our gateway to the world allowing us to experience a vast array of cultures. Exploring destinations is enriching, but also helps fuel the local economy, adding to its sustainability.
It is essential to open our minds to discovery and diversity in local communities off the beaten path. Touring, interacting and learning allows us to see the world through a different lens while contributing to local infrastructure. Tourism Cares to Jordan provided me this opportunity.
Social responsibility is a core value at Collette and we empower our employees to care for the world we live in by giving back. Every employee is allowed four volunteer hours per month to make a difference locally or internationally. Whether it is volunteering at a shelter, feeding the hungry, building a school in Cambodia or providing access to water in South Africa; every effort yields results and a renewed faith in the future. I feel blessed to be able to travel and make a difference in the lives of others.
Ulla Hefel Böhler, Global CEO of Insight Vacations and Luxury Gold
Guests on many Insight Vacations and Luxury Gold itineraries can personally visit projects we support through our TreadRight foundation. These initiatives promote economic empowerment, sustainability and conservation in local communities around the world, from Australia to Canada. As a company we are committed to sustainable and impactful tourism, in order to ensure that the environment and communities we visit remain vibrant for generations to come.
On behalf of all USTOA members, Terry Dale and the USTOA team are proud to continue its support of Tourism Cares and its efforts to unite the travel industry and help destinations in need. In 2018, Tourism Cares visited South Florida in the wake of last year's devastating hurricanes and also will return to New Orleans for ongoing recovery efforts and celebrate the city's 300th anniversary.
Visit https://ustoa.com/blog/transformational-travel/ for more USTOA member examples of travel that transforms.
---