Why the Green Season is Great in Africa
We are letting you in on a safari secret – the Green Season! If you have no idea what the Green Season is, that is ok, Lion World Travel will fill you in. Suffice to say, if you have been wanting to get the best value in luxury safaris, the Green Season is the answer you seek.
What is the Green Season?
The Green Season is also known as the wet season, or rainy season, in Africa. Its timing varies from East Africa to Southern Africa, and it can be the best time to take a safari.
When is the Green Season?
In East Africa (including Kenya and Tanzania), you have the short rains that often start in November, and then the long rains that usually start in April.
In Southern Africa (including Botswana, South Africa, and Zimbabwe), the Green Season can run from about December to March. Of course, anything to do with weather is unpredictable, and the timing of the rains fluctuates every year.
You may think that these warm, rainy months would be an unfavorable time of year for travelers to go on safari. However, many safari connoisseurs will argue that traveling during the Green Season perhaps the best times to visit. Want to know why?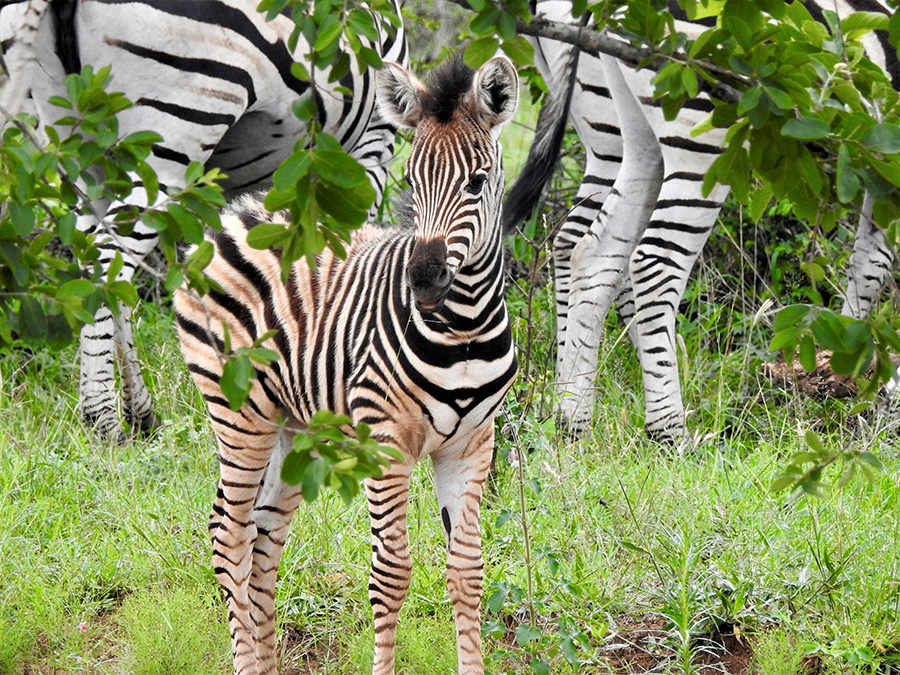 "Having been to Africa during both High Season and Green Season, I can say they are equally amazing in different ways. They each have their own charm. It is less expensive during the Green Season; it is less crowded and best of all, there are lots of baby animals." - Lucille Sive, CEO Africa Division, The Travel Corporation
Top Reasons to Travel to Africa during the Green Season
#1 – All the Baby Animals
Without a doubt, this is a huge reward for visiting during the Green Season. The rains signal to the animals that food will soon be in abundance. This means it is the best time to have babies, so the wide-open plains of Kenya and Tanzania are filled with adorable cubs, pups, calves, foals and fawns.
This abundance also draws in the predators, such as lions, who follow the large herds of zebras and wildebeest in search of their own meals. It is a time of abundance for all animals. If someone is particularly keen on seeing the big cats of Africa on their safari, there is a good chance of seeing the "thrill of a chase" during the Green Season in East Africa.
Similarly, the Green Season is a great time in southern African countries to spot babies, from giraffes to buffalo to zebra, it is their natural cycle to give birth during times of plenty and forthcoming rains are a time to celebrate for all in the animal kingdom.
#2 – Fewer People
Amazingly, with the arrival of new animals, there are fewer travelers. While Africa is known for its wide-open wild spaces any time of year, during the Green Season travelers often feel like they have access to their own personal wildlife paradise. In East Africa, for example, it is possible to be out driving on safari for a couple of hours before coming across another safari vehicle.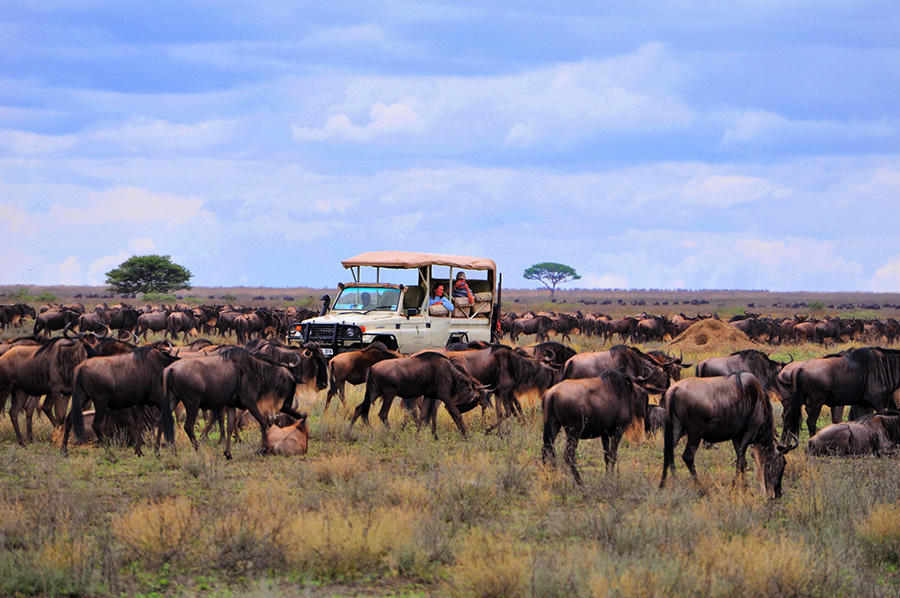 #3 – It is Turning Green
Arriving on safari when the Green Season is underway means being blessed with a more colorful safari experience. Some, or most, of the classically dry scrublands and grasses will have come to life and turned green. For photographers, this can make for some more lively, high contrast images.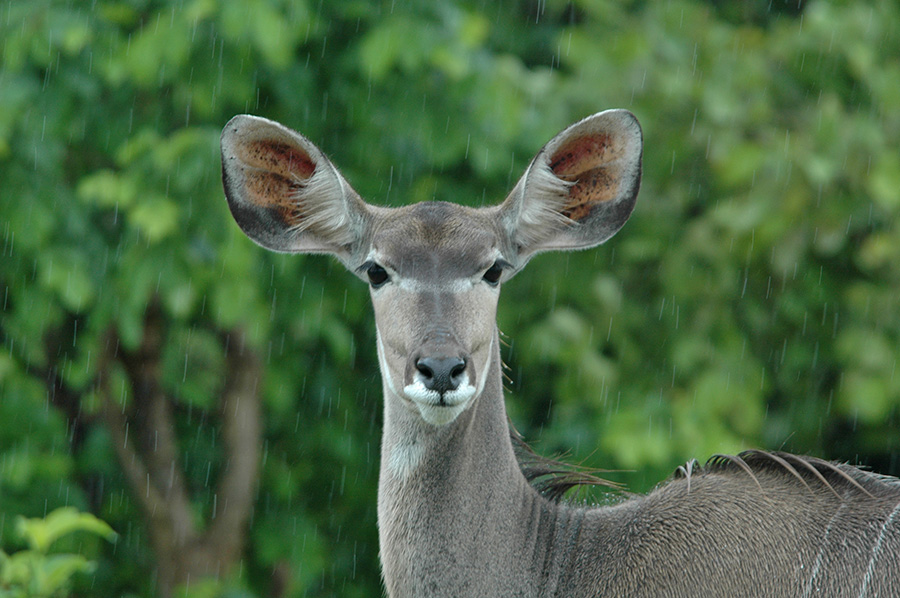 "On one trip to Africa I visited Tanzania and Botswana at the start of their Green Seasons. In the Serengeti, we were surrounded by zebra and wildebeest as far as we could see, and not another safari vehicle in sight, it felt truly special! What I noticed most on that trip were the colors coming to life. It wasn't all dry and dusty like on my previous trip. Vegetation was coming to life, the smells were different, and it really made photography more exciting. The kudu photo above was one of my favorite shots taken during that Green Season trip." - Red Hunt, VP Marketing, Lion World Travel
#4 – Stretch Your Dollars Further
At Lion World Travel we are all about Affordable Luxury, and the Green Season enables everyone to get a little extra value for their money. During peak season, prices are at their highest. During low season, you will get a better value. If your or your clients are flexible on timing for a safari, planning a safari for the start or end of the Green Season can mean being rewarded with the combination of optimal wildlife viewing and lower prices.
#5 – The Migration is Always in Motion
Did you know that the migration in East Africa never stops? Since the seasonal rains vary, the enormous herds of zebra and wildebeest are always on the move. So, no matter what season, if someone is planning to visit both the Serengeti in Tanzania and Maasai Mara in Kenya, they will likely witness the greatest migration on earth.
#6 – Perfect Timing with Holidays
With the Green Season covering the coldest months of the year for Americans, anyone yearning for more warmth should consider a Green Season safari. The timing is perfect to escape for part of winter. As vacation days can be limited, having the Green Season cover popular holidays from Thanksgiving through to spring break, means travelers, including families, have lots of opportunities to turn holiday time into safari time.
With great rates, fewer travelers, and cute baby animals to see, who wouldn't want to visit Africa on a safari during the Green Season?
For more than 56 years, Lion World Travel has been focused on offering the best Affordable Luxury Safaris. Making safari dreams come true during the Green Season, or any season, Lion World can work with you and your clients to create a custom safari experience for any budget. Our travelers have come to expect exceptional wildlife encounters, five-star service, and the best safari experiences. Visit lionworldtravel.com to see our full selection of African Safaris.
---