Meaningful Family Safari
By: African Travel Inc.
An African safari is a unique bonding opportunity with loved ones. Children will be awestruck as the giraffe, zebras and elephants of their textbooks are brought to life. Parents or grandparents will love seeing the kids gain new insights, while experiencing diverse cultures. What better way to inspire our future global citizens?
Whether traveling with young children, teenagers or several generations, African Travel's safari specialists can guide you to select the right destination, and personalize a family safari based on ages and interest while making your travels matter.
Here are some tips to plan the perfect safari while making travel matter.
Where to Start?
Choose a destination, then decide on pace, and experiences. Some families are very active and prefer constant engagement, while other families, prefer longer stays with less packing and unpacking.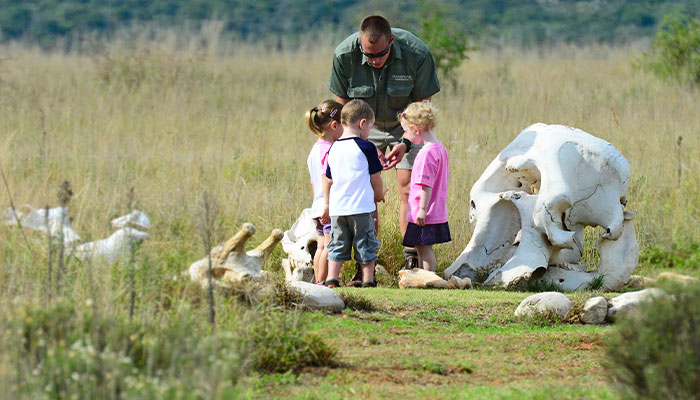 Mixed Ages & Young Families
Activities are fun and engaging, while being educational. Little ones will be amazed to learn that dung beetles roll dung 250 times their own weight. They will squeal with laughter at the donkey like braying sounds of the African Penguin.
Something we often hear is kids need to be kept busy so that they don't get bored. Southern Africa Through a Child's Eyes is tailored to meet the special needs of families especially those with kids that would enjoy a kid's club. Sabi Sabi's Elefun Center supervised ranger led activities teach kids about bush survival, and bugs CSI, while parents can relax and enjoy the incredible safaris, or have a pamper session in the spa.
Adding a few days in Victoria Falls offers an exciting land and water safari option for families and kids of all ages.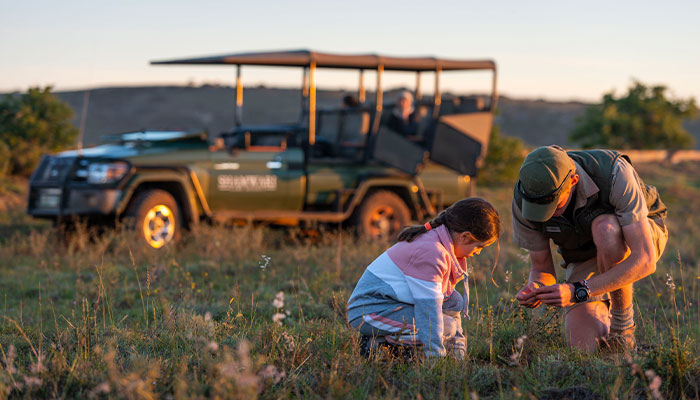 Something for Everyone
South Africa offers a well-rounded experience, with cosmopolitan cities, a rainbow nation of richly diverse cultures and spectacular scenery. Combined with high quality malaria free safari options, this is the perfect destination for families with both young and older kids.
Families will have the experience of a lifetime on our Family Safari in South Africa. This safari satisfies adventurous city and bush interests while relaxing at beautiful places and beaches, learning the importance of conservation at the Wildlife Rehabilitation Centre. For younger kids, a dedicated Kids Adventure Centre will keep children entertained with zipline, cookie decorating, rock climbing walls and climbing towers. Older kids can enjoy walking safaris and exploring the Born Free Big Cat Sanctuary and everyone can go behind the scenes to meet the passionate wildlife caretakers at the Wildlife Rehabilitation Centre.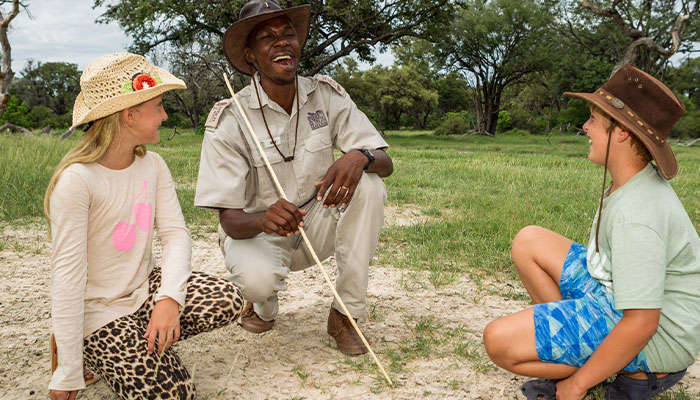 Tweens and Teens
Boring textbook biology is brought to life on nature walks and game drives with experienced guides. Surrounded by the sounds and smells of nature, learn about medicinal herbs, animal tracks, and micro ecosystems, and how everything is inter-connected.
Botswana is the benchmark when it comes to sustainable ecotourism practices in Africa. Access to these pristine settings and stunning landscapes are generally by light aircraft. Accommodations for the most part are tented, best suited for families with tweens and older children. Made for soft adventure, Best of Botswana explores the Okavango Delta's secret channels on boat rides and traditional dugout canoes and the seasonal floodplains in 4×4 safari drives.
Multi-Generational Families
Enjoy the simple pleasures, like the serenity of a sunrise over the savanna, fiery sunsets and starry nights around a campfire, sharing the day's adventures.
Kenya, the birthplace of the safari is also a magical place for all family members. The Family Safari in Kenya tour is perfect for all ages and is all about extraordinary wildlife and true adventure in style and safety. While staying at family owned lodges, rewild the kids, meet the local Maasai, and participate in wildlife conservation projects. Bring your kids to Kenya's first Bush School for children and for older family members accompany the antipoaching ranger unit to learn about game counts, de-snaring and tracking.
A Family Safari in Tanzania is a wonderful engaging experience for both young and the young at heart. Learn new skills, like shooting with a bow and arrow, or how to start a fire with a stone and twig from a Maasai. At Gibbs Farm, guests can tinker around with the carpenters, the desks can be engraved with a personalized message and families can personally deliver the desks to a school.
At African Travel, we create transformative experiences filled with life changing moments. All trips mentioned include a dedicated team of experts to plan a trip and local Guest Services team available 24 hours, 7 days a week to assist while traveling. For every safari, a a contribution is also made to support local communities or wildlife.
For more information or to customize a trip, contact a safari specialist at 800-421-8907 or request a quote.
---