by Kelley Ferro
As many Americans have discovered, there are a slew of breath-taking islands in the Caribbean, making it a  tropical playground for US travelers for generations. But the closest and largest Caribbean island, located  only 90 miles from the US coast, has been the most inaccessible island…until now. This year is marking a big year of change for Cuba as restrictions for American travelers are loosening. Now Americans eager to experience a "new" island paradise, complete with historic cities, an artistic culture and 1950's charm can actually travel to Cuba.  And tour operators, such as the members of USTOA, are making it possible. For me, and many others, this was the trip of a lifetime so without a pause, I was on a plane with USTOA, to explore this previously unattainable island nation.
With only 48 hours on my people-to-people visa,  I was eager to dive headfirst into the authentic, artsy side of Cuba. What I didn't expect to find is that Cuba is like no other destination.. The "real side" of the country was right there, in your face, no searching required. Even what someone would expect to be "touristy" wasn't at all, like the old-fashioned cars. From the window of my first ride into town, I watched the famous 1950s Studebakers, curvy Chevy's and voluptuous Buicks zooming past, filled to the brim with locals simply going to and from their daily tasks. And yes, a lot of locals do smoke cigars right on the street. These weren't tourist stunts; it was just real life in Cuba.
Our itinerary was centered on Havana, the largest city and epicenter of the country. Though it's a large city, Havana's romance bounces off the cobbled paths and down the narrow streets. Paintings are hung in the doorframes of tiny shops, which double as homes for the smiling shopkeepers. Artists display their collections in the tree-studded parks for browsing tourists. Galleries are nestled in every nook and around every corner, from modern paintings and life-size sculptures, to collectives with local artists doubled-over perfecting their canvases inside.
Daniel, a young local architect, gave us an architectural view of the old city on a walking tour. He pointed out the variety of artistic trends found in the building styles, from art deco to art nouveau, and colonial to classical. Havana wears its history on its walls and you find its pride in every stone, on every wall and in every brushstroke.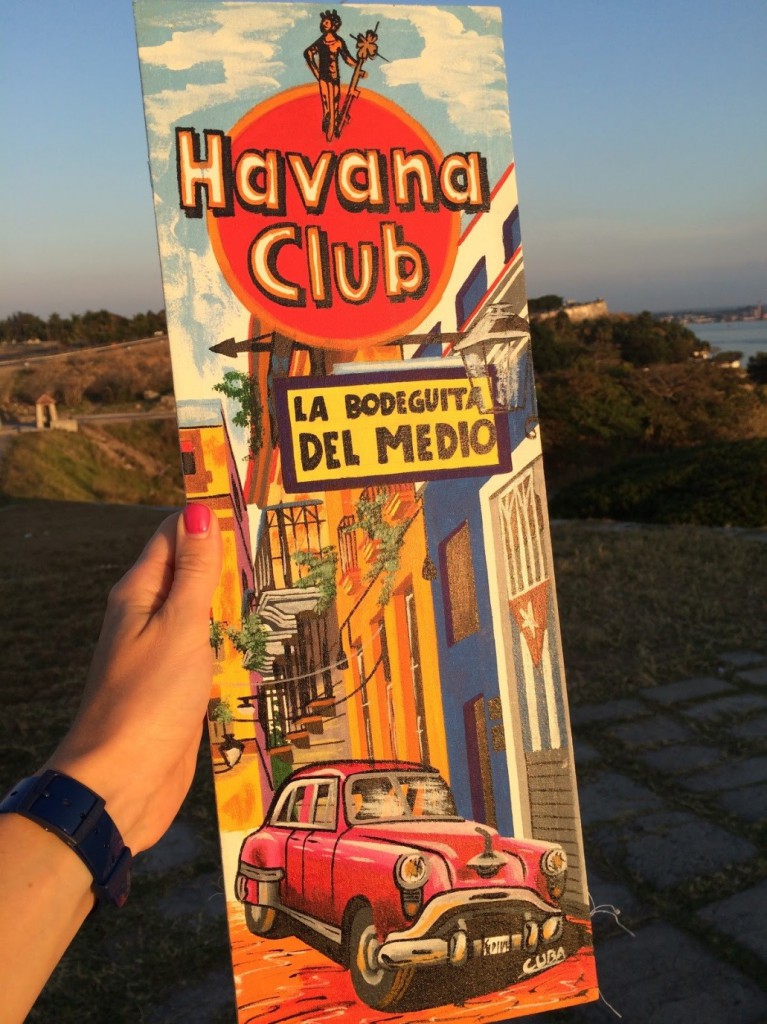 Iconic Old Havana wasn't the only area inspired by the arts. In nearby neighborhoods, there were young, vibrant art communities springing up. One in particular, the Fabrica de Arte Cubano, or F.A.C., is an invigorated gallery meets showroom, housed in a former olive oil factory. This converted space now displays the work of emerging Cuban artists in a fresh, new way. This is not your average gallery. From edgy photographs that will stop you in your tracks, to "found art" sculptures that you wish you could put on your wall at home, this is the new generation of artists and here they are celebrated. But F.A.C gets even better. This energetic space morphs from artist incubator by day to trendy club by night, with an outdoor bar, two stages, films, concerts and performances every weekend. This was one of the most cutting-edge artistic spaces that I've ever seen. Cuba surely is a place of contrasts.
We were invited to hang out with a well-known local artist, Lorenzo López, famous for large scale dramatic art installations, who welcomed us into his own home. Each doorknob, dish and side table of his home was on purpose, which could only be expected from one of Cuban's burgeoning artists. He sees the world through art. He has already received international acclaim and accolades from many of his dramatic pieces, especially because each had a message. For me, the message of Cuba can be summed up by Lorenzo perfectly.
"Art here is very strong. It enriches Cuba in a very strong way… Cubans are very alive. Cuba is alive. It's always alive."
Whether you are walking along the Malėcon withsea spraying against the rocks and a saxophone player serenading you, or you are enjoying a sunset mojito at Hotel Nacional de Cuba under the swaying palm fronds, you are a part of the living art of Cuba. Every moment is full of life and when you are in it, you feel like it should be eternalized in a piece of art.
Kelley Ferro is a travel expert & video journalist living in NYC. She films her show, Get Lost, around the world–hopping on a plane at least twice a month She is also the executive producer for Tripfilms.com. For more on her travels, follow Kelley's Facebook page.
---