By Sherry Ott, AFAR Ambassador
The single burnt out speaker crackles and pops as a high-pitched voice fills the thick night air in Xi'an. Mandarin sung is just as confusing as listening to it spoken, and now it's blaring out of a single speaker that should have been retired about 15 years ago. However, it's appropriate that a group of retirees are lined up in front of the old speaker square dancing on the new side of the city. At the same time, on the other side of Xian's 40 foot high city wall in the old part of the city is another group of people lined up doing movements in unison. This group doesn't have music and the average age is probably 23 years old. They follow the lead of a trainer as he shouts out stretching instructions as they prepare for a group run. I'm amused by this young and old culture in such proximity and it seems to be an ongoing theme I run into all over China.
Old/New, Ancient/Modern whatever you call it, opposites attract. China, maybe more than any other country, lives in this world of opposites. With a culture that dates back 4,000 years, China is considered one of the ancient civilizations along with Egypt, Babylon, and India. Today, however, its years of traditions are clashing up against the modern world and an economy growing at a rapid rate.   It's a petri dish of old and new intermixing, elders and hipsters co-mingling, braided together in a complex waltzing partnership; one in which you never quite know who is going to take the lead.
Many things and world famous sites stand out when you visit China; the Terracotta Warriors, the Great Wall, the architecture of Shanghai, and the billions of people. However, what I was fixated on was the relation between old culture and new. And I found it was this relation between ancient and modern that was the lens through which I viewed the famous sites of China during my tour with Wendy Wu Tours.
Shanghai Markets
I was expecting Shanghai to be completely modern and architecturally stunning, but when I walked to the Bund district to view the sleek skyline from the river, the first thing I saw was an old barge chugging down the river in front of skyscrapers.
In addition to the busy pedestrian shopping street with familiar brands like Apple, TopShop, H&M and Starbucks, our local guide, Ling, took us to a street in Nanshi Old Town surrounded by old buildings painted in red with traditional Chinese rooflines. Don't let the term 'old town' fool you though, its façade is old, but its goods are new. Bins of selfie sticks and the latest craze of plastic flower sprouts that people wear in their hair were found at every shop and vendor. Nestled among the latest fads though were a few old items; I was entranced by the old Chinese comic books.  And by old I mean 1980's old.
But it was also here in Nanshi where we found the Yu Gardens, an oasis of calm and feng shui among the chaotic shopping streets. We walked around the beautifully manicured gardens and Ling told me about the 4 pillars that are required of any Chinese Garden; rocks, water, pavilion, and plants. As I walked through the gardens I forgot that outside of the walls was a chaotic crowded new square with dumpling vendors and people with selfie sticks.
Xi'an Old City Wall
The city of Xi'an oozes ancient tradition; it's one of the most important cities in Chinese history. It's been the capital of 13 great dynasties and was the starting point to the Silk Road. Today it holds one of the most famous archeological finds in the world, the Terracotta Warriors; an army of 8,000 soldiers that were created and buried to protect Emperor Qin in the afterlife. As I pushed my way through what felt like an army of people to see the warriors, I was getting a feel for what modern day China is really like; bursting with people.
However, what captured my attention in Xi'an was the Old City Wall standing 40 feet tall and 40 feet wide; a giant square cube running 8.5 miles around the old city. It was originally built to protect the city and Dynasty from invasion; however, it was never actually attacked. I guess the look of it was protection enough. Today the wall is this division of old and new.  Inside sits the old city and Muslim quarter, bell towers, and parks. It's quiet inside of the walls as only electric motorbikes are allowed, while outside the walls is a bustling metropolis of new buildings, high-rises, and traffic! Going up on the wall and walking or biking is a great way to place yourself between the old and new China.
Beijing Hutongs
Beijing's culture was built in the hutongs, old courtyards forming tightknit neighborhoods where you find day-to-day life. Not many hutongs remain these days as most have been leveled to make room for the new China, but ironically, many tourists prefer to visit the few remaining hutongs rather than the city's new modern buildings. It was my walk through the South Gong and Drum Lane hutong that made me love Beijing. I meandered through the narrow streets and alleys and got a feel for the old life of Beijing. I was even able to enter one of the homes and eat lunch with a local family.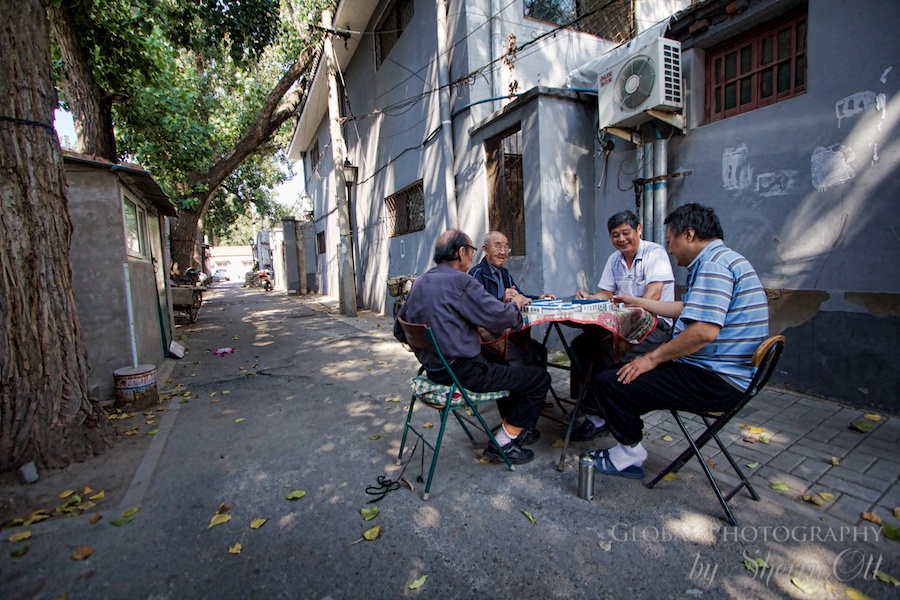 I easily became distracted looking down every little lane, finding old men playing Mahjong. But the part I loved the most is that nestled among the connected homes, public restrooms, and men playing Mahjong, were young men and women with tattoos and piercings sipping coffee in small, hip coffee shops. This was the ultimate mix of old and new in Beijing. We stopped in at Si…if Bar on North Luogu Alley Dongcheng District, which labeled itself the 'first bar in the hutong'.  It was an oasis of calm during the day with its clever wood design, bar dog that would lay by your feet, and self-proclaimed "F!*cking Good Coffee".
There was also a mixture of old and new at the Mutianyu section of the Great Wall, an hour outside Beijing. You can take a gondola up to the wall and walk on the ancient steps where warriors once protected China from Mongol invasion and then opt to take a more modern route down the wall – a toboggan slide that wound like a snake down the steep hill.
Getting Off the Beaten Path
While many travelers tend to focus on the older, ancient sites of China, local guides will take you off the typical tourist trail and introduce you to today's 'new' China.
Sherry Ott is a long term traveler, blogger and photographer without a home. She spent a year living in Vietnam, hiked the Annapurna Circuit, did cultural exchange programs in the Middle East, drove 10,000 miles from London to Mongolia, and walked across Spain on the Camino de Santiago. She seeks out adventurous opportunities to inspire people to overcome their fears and reap the benefits of travel. Hear more about her journey to China with Wendy Wu Tours at AFAR.com.
---